Exhaust heat recovery for gas and diesel engines, gas turbines, and micro turbine generator retrofit applications from 30Kw - 7MW.
Boiler Economizer Systems
An extensive line of boiler exhaust economizers designed to recover exhaust waste heat (Btu) typically lost through the stack to preheat boiler feedwater, makeup water, process water, etc. for boilers ranging from 200,000 Btu input - 150,000 PPH steam.
Fume Incineration Systems
Packaged fully automatic exhaust steam generators recovering large volumes of exhaust waste heat from 600ºF - 1600ºF, producing primary and/or secondary steam.
Finned Tubing
An abundant range of custom-fabricated, industrial grade finned tubing, manufactured to meet stringent customer requirements.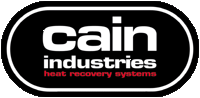 EEG would like to highlight the Cain Industries, fully packaged ESG1 (Exhaust Steam Generator, pictured) which covers the range of 20 to 500 boiler hp and operating steam pressures from 3 to 450 psig.
The Cain ESG1 is an excellent match to EEG Semi-Closed Cycle Piston Engines.
More information on Cain Industries is available at:
Cain Industries, Germantown, WI